Garmin Drive™ 51
Dedicated GPS Navigator with Driver Alerts
Easy-to-use dedicated GPS navigator with bright 5.0-inch dual-orientation display
Preloaded with detail maps of Singapore and Malaysia.
Driver alerts for dangerous curves, speed changes, speed cameras1, railroad crossings, animal crossings and more
TripAdvisor® ratings for travel points of interest (POIs) such as hotels, restaurants and attractions
Easily search addresses and millions of points of interest
Compare
Description

Wherever you're going, have a smoother trip with Garmin Drive. This dedicated GPS navigator includes innovative driver alerts to help increase your situational awareness and preloaded travel points of interest from TripAdvisor to help find everything you need along the way. The future is on your Garmin. Just look ahead and drive.
Road Trips Just Got Better with TripAdvisor
When you're not familiar with the area, it's nice to have something to point you in the right direction. That's why we're bringing TripAdvisor to your Garmin Drive navigator. View ratings for travel POIs, such as hotels, restaurants and attractions, along your route or near your destination. From the world's largest travel site directly to your car, we're helping you find the stops that make the entire journey part of the destination. Also locate new attractions with the built-in Trip Planner tool, which adds fun to road trips by suggesting interesting stops along the way.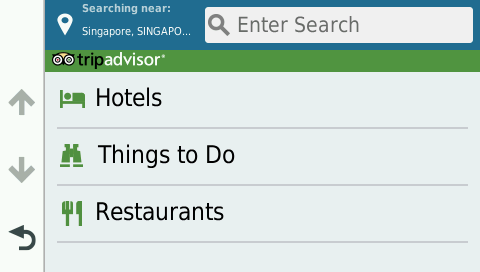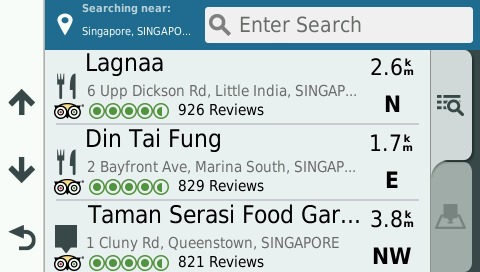 Easier to Search, Quicker to Find
Garmin Drive has a search field that makes it easy to find addresses and millions of POIs. Simply enter a category (like "pizza") or a proper name ("Starbucks"), and Garmin Drive quickly returns your results.
Driver Alerts: Know Your Surroundings
To encourage safer driving and increase situational awareness, Garmin Drive provides driver alerts for sharp curves, speed changes, railroad crossings and animal crossings. Additionally, the navigator will warn you when driving the wrong way on a one-way street and alert you to nearby schools and school zones. Receive notifications for nearby red light cameras and speed cameras², and even get fatigue warnings2 that suggest potential rest areas after several hours of driving.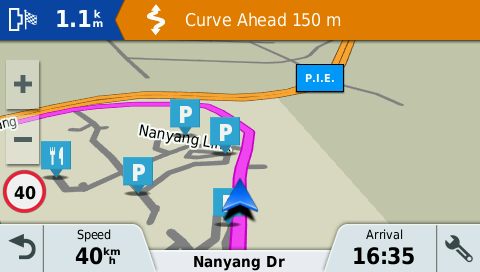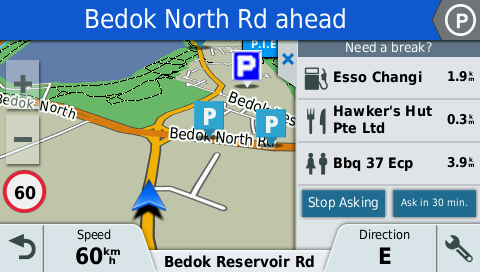 More to See and Do with Foursquare®
Thanks to Foursquare, your Garmin Drive navigator is loaded with millions of additional popular places like restaurants, entertainment venues, shops and other points of interest. Next time you get in the car and take a ride, you might just find your new favorite spot.
One-stop Device Management
Use Garmin Express™ to keep your Garmin Drive navigator up to date. Garmin Express makes it easy to update maps and software. The quality of map data can make all the difference between finding your destination and getting lost. High-quality HERE map data enables your Garmin device to provide you with the information you need, when you need it most — reducing the frustrations of driving by avoiding delays and cutting down the time you spend in your car.
Related products
Rugged GPS/GLONASS Handheld with Built-in Wi-Fi®, Camera and More
High-sensitivity dual GPS and GLONASS satellite reception for better performance in challenging environments than GPS alone
Redesigned antenna enables better reception and performance; 3-axis compass with accelerometer and barometric altimeter sensors
3-inch sunlight-readable touchscreen with dual orientation (landscape or portrait view)
Expanded wireless connectivity (Wi-Fi, Bluetooth®, ANT+® capable); includes smart notifications¹ and automatic uploads to Garmin Connect™ online community and supports Active Weather and Geocaching Live
8 megapixel autofocus camera; automatically geotags photos
Rugged GPS/GLONASS Handheld with Built-in Wi-Fi®, Camera and More
High-sensitivity dual GPS and GLONASS satellite reception for better performance in challenging environments than GPS alone
Redesigned antenna enables better reception and performance; 3-axis compass with accelerometer and barometric altimeter sensors
3-inch sunlight-readable touchscreen with dual orientation (landscape or portrait view)
Expanded wireless connectivity (Wi-Fi, Bluetooth®, ANT+® capable); includes smart notifications¹ and automatic uploads to Garmin Connect™ online community and supports Active Weather and Geocaching Live
8 megapixel autofocus camera; automatically geotags photos